Are you overspending on collaboration and security tools? Microsoft 365 may play a key role in helping you reduce IT costs.
If you are tasked with reducing IT spending, one of the first places to look is your software stack. You'll often find hidden licenses, underutilized tools, or duplicates in functionality.
With updates to Microsoft 365 Business Premium, you may be able to reduce IT costs while simultaneously increasing productivity, collaboration, and security.
What is Microsoft 365 Business Premium?
Microsoft 365 is a collaboration subscription with three offerings: Business Basic, Business Standard, and Business Premium.
As you can see in the graphic below, Business Premium provides the most comprehensive solution with the inclusion of key security features.
The bundle of services in Microsoft 365 Business Premium increases its ROI and creates opportunities for reduced IT costs by replacing existing, more expensive tools.
Long View has put together more information on Microsoft 365 Business Premium here.
What collaboration capabilities exist within Microsoft 365?
Microsoft's 2022 Work Trend Index highlighted the changing landscape ahead: 57% of remote employees are considering a shift to hybrid, and 51% of hybrid employees are considering a shift to remote. Collaboration tools will be essential for providing the flexibility that employees need.
Microsoft 365 offers extensive collaboration and communication capabilities, including:
The ability to access documents and files from anywhere, including mobile
Online document storage and file sharing
Email and calendaring software through Exchange
VoIP, calling, instant messaging, and real-time collaboration via Teams
Exchange allows you to send your availability to someone without leaving the app or needing another SaaS solution such as Calendly. Lowering the number of third-party tools in your environment reduces IT costs and associated risks.
On a similar note, VoIP, calling, and instant messaging capabilities within Teams remove the need for additional telecommunications expenses.
What is the productivity ROI of Microsoft 365 Business Premium?
Microsoft Teams alone can save information workers 4 hours per week and lead to an 18.9% reduction in weekly meetings, according to a Forrester Total Economic Impact study of Microsoft Teams (2019).
In addition to the communication and collaboration capabilities listed above, Microsoft 365 Business Premium also provides dashboards, analytics, and insights to give you a thorough understanding of your organization's usage and experience.
Long View's Managed Microsoft 365 Business Premium offering adds to the ROI by including training and mentoring support services, ensuring you get the most out of the tool. We also provide customization of Microsoft 365 to further the experience and directly meet your business needs.
What additional security features does Microsoft 365 Business Premium provide?
With 65% of organizations reporting an uptick in attacks during the pandemic (according to Splunk's State of Security 2022 report), it's no secret that security is a top priority for most executives.
Microsoft 365 Business Premium was designed with this in mind, with built-in security features to help keep data and applications safe. These include:
Remote monitoring and management of security threats
The ability to manage end-to-end compliance processes with Compliance Manager
Bring-your-own-device (BYOD) scenarios enabled, and email data protected with Azure Information Protection
Policy monitoring and management with Azure Active Directory and Intune
With the recent inclusion of Microsoft Defender, M365 Business Premium now provides endpoint protection designed specifically for businesses with up to 300 employees. This tool is easy to use, with wizard-based onboarding, out-of-the-box policies, and automated investigation and remediation to help automatically protect you against the latest threats.
Long View's Managed Microsoft 365 Business Premium Offering also provides backup of your M365 environment.
Can you summarize how Microsoft 365 Business Premium reduces IT costs?
Microsoft 365 is built for secure hybrid work. Its collaboration features boost productivity, and its security features reduce risk.
By including the following features in one subscription, organizations can remove duplicative expenses and reduce IT costs by up to $23 per user.
Remote access solutions
Advanced email protection
Single Sign-On
Conditional Access + MFA
Endpoint anti-virus protection
Device management
Productivity apps and file storage
Chat-based collaboration
How do I get started with Microsoft 365 Business Premium?
Request a 30-day free trial today.
Request A 30 Day Free Trial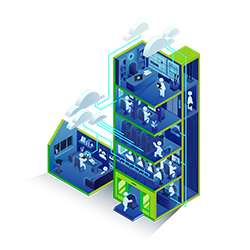 Subscribe to our newsletter for the latest updates.