Author: Chad Reid
Practice Director, Digital Defense
Long View
---
Security acronyms are abundant in the cybersecurity industry. CIS, NIST, and CVSS are just a few examples. However, in this blog, we will focus on three important acronyms: EDR, MDR, and XDR. These three acronyms represent different types of cybersecurity solutions that can help businesses protect themselves from cyber threats. They may sound similar, but the differences between them are significant, and it's not always clear which one to use. If you're trying to determine which one does what function, this blog is for you. We will introduce each term, compare them, and explain why one might make more sense than the other. Let's dive in.
What Is EDR?
Endpoint Detection and Response (EDR) is a cybersecurity technology that continually monitors an "endpoint" to mitigate malicious cyber threats. EDR tools are next-generation technologies that surpass antivirus protection and commonly include the following capabilities:
Data Collection: EDR solutions collect data from endpoints to provide visibility into the environment. This data includes information about running processes, logins, and open communication channels.
Threat Monitoring & Protection: EDR tools detect and investigate security events in real-time. Most tools provide guidance on how to respond to prevent further issues. Attackers often target vulnerable endpoints. This is why it's important to have a strong cybersecurity posture and to use tools like Endpoint Detection and Response (EDR) to help protect your organization from cyber threats.
Machine Learning & Behavioral Analytics: EDR tools use machine learning and behavioural analytics to create a profile for each endpoint. This profile establishes what is normal to assist with threat detection. Artificial Intelligence in tools like Microsoft's Defender for Endpoint allow zero-day detections because it is a cloud-powered tool that has trillions of telemetry signals feeding it on an ongoing basis.
EDR Benefits?
EDR tools provide real-time visibility and protection from threats such as malicious software and malware
Offers modern endpoint security that is based on artificial intelligence, behavior analytics, and machine learning
EDR tools are powered by an intelligent cloud that shares telemetry, making endpoint protection indispensable to organizations
What Is MDR?
Managed detection and response (MDR) is a type of security service that offers a response to contain the problem and resolve the issue from further risk. MDR service providers know that cyberattacks can happen at any moment, and having a SOC that operates 24x7x365 is crucial to be ready for any cyber threat. Below are some highlights:
Threat Detection and Response: The main focus of managed detection and response services is leveraging an EDR tool, such as Defender for Endpoint, to detect and respond to threats. MDR providers will handle the investigation and resolution of incidents.
Threat Hunting: Advanced hunting is a tool that lets you explore up raw data. It can proactively inspect events in your network to locate threat indicators and entities. Threat hunting is a way cybersecurity analysts look for hidden breaches within an organization's environment. This service is part of MDR services and is vital to reduce an organization's cybersecurity risk.
Automation: Field-Proven Processes & Playbooks that evolve over time to lower security costs through automating security responses and reducing false positives.
MDR Benefits
MDR is a managed security service that provides detection, investigation, and response to threats on the endpoint.
MDR uses behavioral analytics, machine learning, and SOC services to deal with complex and evolving cyberattacks.
Provides 24x7 protection with managed detection and response security services to secure your Servers, desktops, and mobile devices.
It focuses on threat detection and response and ongoing assessment of your environment's security posture and assistance with changes to align with industry best practices.
It offers end-to-end service for security breaches, from isolation to remediation to prevention.
What Is XDR?
Extended detection and response (XDR) products are threat detection and incident response offerings that combine multiple security tools to meet more security operations needs. Primary functions include security analytics, alert correlation, incident response and incident response playbook automation. Here are some of the main features XDR:
Detection and response: XDR combines multiple sources of data to correlate events and determine if an alert is warranted for investigation
Automation: Playbooks that run automatically under certain criteria
SIEM platform AI and ML: A cloud-based SIEM platform armed with artificial intelligence and machine learning underpins XDR solutions
Threat Intelligence/Threat Hunting
Complete data integration: Data integration comes from multiple source (networks, cloud workloads, endpoints, applications etc.)
Remediation: the process of restoring or improving a situation or an event after it has been resolved or contained. Remediation involves reversing or stopping the damage, recovering from the effects, and preventing recurrence.
XDR Benefits
Offers well-integrated functionality that extends significant operational efficiency benefits.
Rely primarily, but not exclusively, on a vendor's own ecosystem for prevention, detection and response use cases.
Advanced Analytics, threat intelligence, automation, and automated responses, plus remediation
EDR or MDR?
Endpoint Detection and Response (EDR) software focuses on detecting and responding to cybersecurity threats on endpoints such as servers, laptops, mobile devices, and virtual machines. Managed Detection and Response (MDR) is a security-as-a-service offering that Long View provides companies with everything they need to protect themselves against the evolving cyber threat landscape.
MDR or XDR?
Managed Detection and Response (MDR) is a security-as-a-service offering that Long View provides companies with everything they need to protect themselves against the evolving cyber threat landscape.
XDR is a more advanced and comprehensive approach to security. It leverages cloud-powered technology and automation, but it also streamlines security data ingestion, analysis, and workflows across an organization's entire security stack.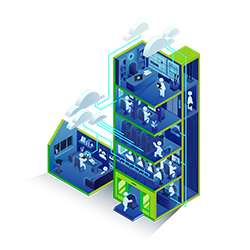 Subscribe to our newsletter for the latest updates.