Migrating to Azure Virtual Desktop
Migrating to Azure Virtual Desktop means a lot of weighing the pros and cons. Depending upon how you categorize these there are 2 or 3 considerations that routinely come up with most Enterprises. ROI of the migration, which is self-explanatory. The other 1 or 2, depending on if you combine them or not is Employee Productivity and Employee Experience.
ROI
Determining the ROI of a cloud migration is not an easy endeavor to undertake. There are absolute hard numbers you can include within an ROI. Cost of utilities, real estate space, site maintenance, backup power, and utility maintenance these are a few most companies endure. There are also those soft costs which cannot calculated for every customer because they are different for every customer and not every customer will have them. How do you quantify the agility cost a cloud migration provides a customer or the time to market cost a cloud migration could provide.
I typically do not like to include the soft cost in my ROI calculations with customers because it can bog down the conversation with too many "What if?" scenarios when it comes to a true ROI. Like Joe Friday said in the TV show Dragnet "Give me the facts, just the facts." In other words, focus on the hard numbers.
Employee Productivity and Employee Experience
For me I combine Employee Productivity and Employee Experience simply because studies are starting to show that employees who feel productive have a better employee experience, which is leading to much more engaged and happy employees.
Here is a list of ways Cloud Migration can improve employee experience and productivity:
Employee Collaboration – I put this at the top of my list because employees can now collaborate in real-time with colleagues, vendors, partners, and customers no matter where they are located. Here are a few numbers, companies that use Teams have reported a 49% reduction in email volumes, the number of meetings has decreased by 25%, and the company is 32% more productive overall. These numbers tell a story that employees are more engaged which shows in most marketing reports an overall pleasant experience with available tools
Security Breaches – Most reputable cloud providers have their own security teams fighting against Ransomware and other Security Breaches so the company and employees can focus on running the company. Less downtime means a more engaged employee base.
Improves Big Data handling – Internal or External makes no difference here. I enjoyed having data at my fingertips when I was a support engineer as it provided a rapid resolution for customer issues. This meant higher tNPS scores, which translated to higher NPS scores, which meant customers were happier, and the customer is happy this easily translate over employees being happy because they feel they are making a difference.
BYOD – I do not know about most people, but I enjoy working on technology I am familiar with. I know where to go for all my needs and I feel less stressed about taking on new duties because I know where everything is and how to use it.
Optimizing in house IT – Migrating to Azure Virtual Desktop means you can release the creativity of your IT staff to solve more problems with your business instead of managing day-to-day IT operations. Most IT are tinkerers and releasing them to solve pet projects within the business means a much more engaged IT staff and better business efficiency.
Existing Systems – Interoperability is the name of the game and reputable cloud providers are going to everything in their power to allow systems to work together within reason. Cloud providers are going to push their customers to modernize for better interoperability and security. Less downtime and higher efficiency for employees.
IT Issue downtime – Migration to Azure Virtual Desktop  means less downtime for your IT staff to manage, less downtime your employees are twiddling their thumbs, and less worry from executives.
Talent and Outsourcing – Migrating to Azure Virtual Desktop and newer technologies will enhance a company's appearance to job seekers who are looking for cutting edge companies. This could also lead to outsourcing some company duties saving more money.
Market Condition – Agile, agile, agile! Having the ability to shift quickly and efficiently means your employees will always feel like they are at the cutting edge of technology.
I placed Employee Productivity and Experience together because it is hard to separate them. I firmly believe that productive employees are happy employees. I want my employees to have access to the tools they need to succeed so they can feel empowered and engaged. I want their experience with IT and technology to be easy, pleasant, and hassle free that means migrating to Azure Virtual Desktop is top of my list.
Damon Duncan
Principal Architect, Long View
Contact us to learn more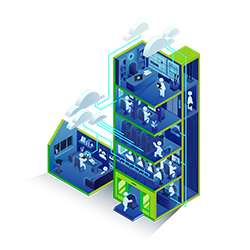 Subscribe to our newsletter for the latest updates.